There are few ways to check installed version of SSIS PowerPack or ODBC PowerPack Version.
Method#1
For SSIS PowerPack : Open any task/component UI. Check title bar
For ODBC PowerPack :
Open any Driver UI window (add/edit ODBC DSN) or Data Gateway Data Source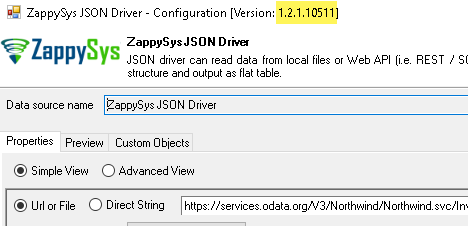 Method#2
Navigate to Control Panel > Add/Remove Programs > Check SSIS PowerPack entry or ODBC PowerPack entry like below.

Method#3
Check Execution log of SSIS PowerPack or enable Logging in ODBC PowerPack and it will log the entry.
How to check execution log in SSIS
How to enable logging in ODBC PowerPack
Contact Us
If you have more question(s) feel free to contact us via Live chat or email to support@zappysys.com