Problem:
Using ZappySys ODBC PowerPack product with Informatica You might get below error during Object Import Process for Source / Target Designer. Refer this article for reading JSON / REST API using ODBC Driver in Informatica
REP_12014. An error occurred while accessing the repository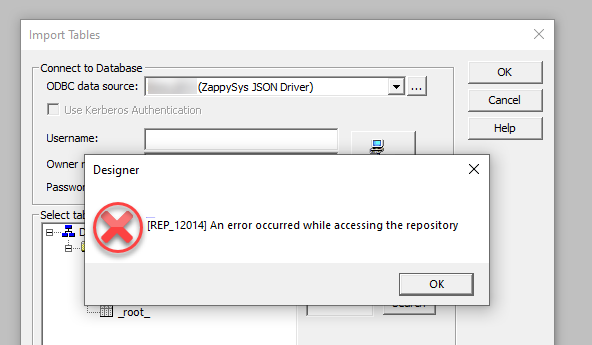 Possible Cause
This error might occur due to the fact that your ODBC DSN or Custom Objects not configured correctly. (i.e. Body / Url / Header or Credentials are wrong)
Possible Solution
To troubleshoot what is the real error first try to run a simple query in on Preview Tab
select * from YourTableName
Now if you see error try to fix it and then go back to Informatica mapping designer and try to import source / target schema see you get error.
You can also enable detailed logging to capture error.
Contact Us
If you have more question(s) feel free to contact us via Live chat or email to support@zappysys.com