There will be a time when you like to troubleshoot more about ODBC PowerPack Errors. Basically there are two ways you can log ODBC requests. 
ZappySys ODBC Driver Log
Use this method to capture ZappySys driver specific calls / errors. 
First open your ZappySys ODBC DSN (search odbc in start menu and click on ODBC Data Sources)
Click on the Advanced View option and specify LogLevel and Log File Location. Log level = Info will generate too much log so do not use it if you have lots of records.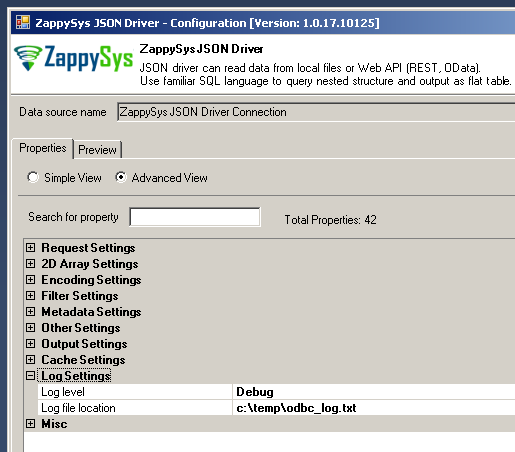 Enable ODBC System Level Trace (Global Logging for all DSN)
There is another way to capture details for ODBC calls. Open ODBC Manager (Type odbc in start menu open ODBC Data Sources). On Tracing Tab you can specify Tracing file path (i.e. log file) and click Start Tracking. In some cases you may have to check Machine wide tracing for all user (specially when driver is called by service account).