The out of the box toolset Microsoft provides contains a few Native SSIS Connectors / Tasks which might be good for basic data integration scenarios. However, with the Cloud-First world, things are changing faster than ever before, it's more agile.... more diverse.... and more challenging.
Most connectors/tasks offered by Native SSIS have not been updated in years, or are seriously lacking features you need to connect to modern data sources. This means you often have to rely on programmers which can be very expensive, often counterproductive, and hard to maintain in the long run.
ROI
To address the above problem, ZappySys developed 70+ high performance, Drag and Drop, Coding free Components that are easy to use, cost-effective, and most importantly easy to maintain, even for entry-level users with little to no experience.
We built these connectors/tasks based on several years of constant feedback gathered from real-world users around the globe (i.e. Developers, Analysts, Architects, Directors, Business Owners...). We tried to address the most common pain points faced during modern Data Integration scenarios in the Cloud-First world.
Security / Updates / Release Cycle
We take security concerns seriously so we routinely update our components to meet the latest security standards and compliance. Read more here about security
Our products are updated more often than any of the competitive products available. Based on the severity and feature demand from our customer base we publish new builds frequently, so you never have to wait long for the most up to date version.
Support
We believe strongly that our product is only as good as the people behind it. The product will earn your business but our support infrastructure keeps your business. This is the reason we offer World Class Support which includes Live Chat, Email, Phone, and Web Meetings (Screen Share).
Our support hours cover multiple time zones (and some weekend time too) including International Time zones so we got you covered no matter where you are on the map.
We have dedicated account managers that begin working with you during your trial use and continue on through license procurement. As a licensed client our AM's work with you on additional licensing and renewals, with a white-glove service mentality typically not found in our industry.
Rating / Customer Satisfaction
Don't just take our word for it! Check out the links below to see what other users feel about ZappSys and why they rated us so high. We have clients in over 140 countries ranging from companies of less than 10 employees to the Fortune 500.
Features / Benefits
Here are some examples where ZappySys adds value on the top of Native SSIS Connectors / Tasks

First in the Industry: API Connector Framework / Prebuilt Connectors - Create your own API Drivers
REST / SOAP API Connectivity to virtually any API out there - We offer specific and generic connectors which mean you can be connected to any system (as big as SAP ERP or as small as internal Web Service for an employee timesheet...Regardless of the need we have you covered!)
High Performance JSON / XML / CSV Parsers and Generators
AWS Connectivity - S3, SQS Queue, Redshift, DynamoDB (and other services i.e. Billing API, Athena, Gateway using generic REST Connectors)
NoSQL Database Connectivity - MongoDB, DynamoDB, Azure Table Store and other services (e.g. CosmosDB / ElasticSearch) using Generic REST Connectors
Secure FTP Task (Connect using SFTP, FTPS / SSL and Classic FTP Protocol, Supports Public/Private Key and many Encryption Algorithms)
Upsert Component - Update or Insert Millions of Rows in few clicks (based on Key column(s))
Enhanced Excel Connectivity
CRM - DynamicsCRM, Salesforce (and other services i.e. HubSpot, Marketo, Zoho using generic REST Connectors)
PostgreSQL Connectivity
Advanced HTML Email Task
Reporting Services (SSRS) Task (Automate Export, Email reports)
Google Analytics Connector
Click here to read more about SSIS PowerPack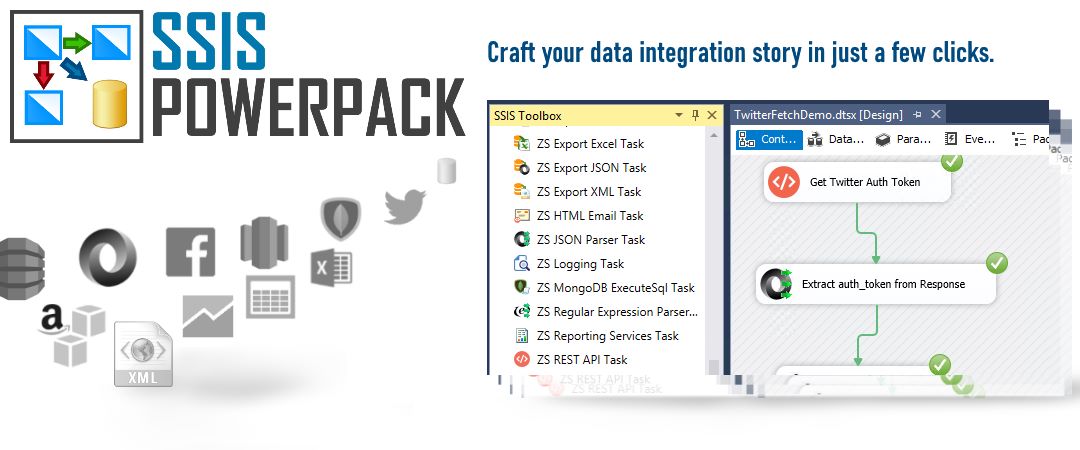 Contact Us
If you have more question(s) feel free to contact us via Live chat or email to support@zappysys.com
https://zappysys.comt/support/